In the Dnipropetrovsk region detained girls, which carried dozens of grenades in Lviv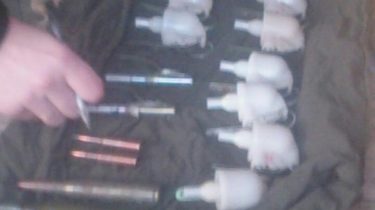 In the Dnipropetrovsk region detained girls, which carried dozens of grenades in Lviv
ATO
Today, 12:24
1 of 4

© State of national police in the Dnipropetrovsk region

1 of 4

© State of national police in the Dnipropetrovsk region

1 of 4

© State of national police in the Dnipropetrovsk region

1 of 4

© State of national police in the Dnipropetrovsk region
© State of national police in the Dnipropetrovsk region

© State of national police in the Dnipropetrovsk region

© State of national police in the Dnipropetrovsk region

© State of national police in the Dnipropetrovsk region
Girls were carrying grenades from the zone ATO.
During the inspection of 18 – and 22-year-old passengers of the Fiat police found 10 grenades f-1, RGD-5, 8 RGN grenades and 10 fuses to them, as well as 4 rounds.
It is reported by the police in Dnipropetrovsk region.
The driver told me that the girls picked up in the Donetsk region and were driven to the city, the girls themselves to provide any explanation about the seized items refused.
All withdrawn is directed on research.
Police have solved the issue of entering information in the registry with preliminary legal qualification of "illegal handling of weapons, ammunition and explosives".
Read also: SBU prevented an attempt to smuggle weapons from the zone ATO
We will remind, in Donetsk region on duty police Manhush in the priest who was driving the van, found the grenades and the RPG (handheld antitank grenade launchers). About this on his page in Facebook said the head of the police Donetsk oblast Vyacheslav Abroskin.
Comments
comments