Lutsenko said the statement Leshchenko on the ownership of the mansion in the center of Kiev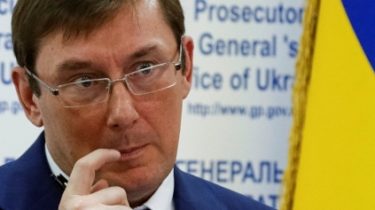 Lutsenko said the statement Leshchenko on the ownership of the mansion in the center of Kiev
© Reuters
The people's Deputy from BPP Sergey Leshchenko reported that the attorney General has issued a house on the accountant of his wife.
The Prosecutor General of Ukraine Yuriy Lutsenko has denied the allegation that he has a huge house in the centre of the capital.
"I officially declare: no building in Kiev, neither I nor my family members do not speak", — he wrote on his page in Facebook.
See also: Lutsenko is gaining new prosecutors salary in 7 thousand
The fact that on Sunday, October 23, on channel 5 there was an interview in which the MP from the PPO Sergey Leshchenko said on the ownership of real estate Lutsenko in Kyiv. According to him, the attorney General issued a house on the accountant of his wife.
"To hide their status for women remains the exclusive prerogative of a woman," he rebuffed the Deputy Lutsenko.
As previously reported, people's Deputy Serhiy Leshchenko became the owner of real estate on Franka for 7.5 million. The Network has published a copy of the information from the state register of property rights to immovable property, which indicates that a woman bought an apartment with an area of 192 square meters in August of this year.
The politician explained that the apartment was purchased for part of the savings as co-founder of "Ukrainian truth", the loan from the founder pack Olena Prytula and money his lover Anastasia Topolsica. Leshchenko said that in 2013-2014, he declared the income in the sum more than 100 thousand dollars.
Subsequently, detectives NAB the revealed offense, when found out, who and how helped the people's Deputy Serhiy Leshchenko to buy 200 square meters of luxury housing in the center of Kiev. In the suddenly appeared another woman, the mother of Deputy. Turned out that she gave her son two million what a woman has ever said. He Leshchenko calls himself clean.
Leshchenko showed the apartment where he lives with his beloved, and spoke about the personal and political life
TSN. Week
25 Sep, 21:23
Add to favourites
The people's Deputy told, what sounds in their house, how he met his girlfriend and what was the cause of the first family scandal. Leshchenko was very hurt by questions about borrowing money for an apartment and the meeting of MP with odious persons from political circles.
Comments
comments