Mr. Yan said the threat of disruption of the proceedings against Yanukovych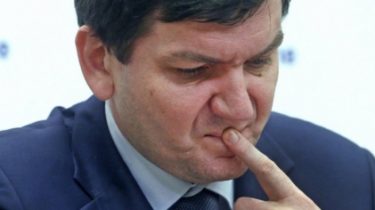 Mr. Yan said the threat of disruption of the proceedings against Yanukovych
© UNIAN
The destruction of the Department can hurt, said the representative of the GPU.
Head of the Department of special investigation GPU Sergey Gorbatyuk said that the transfer of the case of the fugitive Viktor Yanukovych in the investigation of the new Department on investigation of crimes committed by criminal organizations, can only do harm.
This opinion was voiced in the comments to "the Ukrainian truth".
"The destruction of the holistic Department, which is working on investigation of crimes of the Maidan – is a direct harm to these industries," he said.
Read also: Yanukovych was working in the interests of Russia – GPU
According to the head of the Department is not yet decided how they will allocate the case. According to the Gorbatyuk, there are several reasons for such actions of the Prosecutor General. One of them, he believes their disagreement with the existing procedure in absentia proceedings.
"The current law on special proceedings not in conformity with the Constitution and European conventions. It contains the legal points that may lead to the destruction of production and avoidance of responsibility by persons convicted on the basis of this law," – said the Prosecutor.
He stressed that the Verkhovna Rada should fix the errors in this law that it is back in August wrote a memo to the Prosecutor, however, has still not received her answer.
Also, some commented on the reprimand, which he announced to the Prosecutor General Yuri Lutsenko. He believes that he made with gross violation of the law.
"The conflict solely on my unwillingness to carry out illegal orders," – said the Prosecutor.
We will remind, earlier Prosecutor General of Ukraine Yuriy Lutsenko said that the case against Viktor Yanukovych and his accomplices as part of an organized group can transmit to the court before the end of the year.
Separately Lutsenko commented on the statements of head of the Department of special investigations of the Prosecutor General Sergei Gorbatyuk not ready to pass indictments against Yanukovych, former interior Minister of Ukraine Vitaliy Zakharchenko, ex-head of SBU Alexander Yakimenko and the like.
"I'm going to do, including organizational steps that will lead to the fact that it is a public set me the task and legal, decided this year", – assured the head of the GPU.
Comments
comments