The NBU Council is headed by ex-Minister who fled abroad during the reign of Yanukovych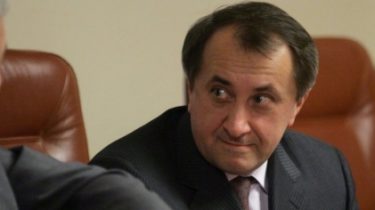 The NBU Council is headed by ex-Minister who fled abroad during the reign of Yanukovych
© UNIAN
He called for socio-economic development of the state.
Bohdan Danylyshyn headed the Board of the National Bank of Ukraine.
This reports the press service of the regulator.
Danylyshyn was appointed Deputy Tymofiy mylovanov.
The newly elected Chairman called on the Board of the national Bank "work on macro-financial stability and promote socio-economic development of Ukraine".
In turn, member of the NBU Council Vasyl Furman said: "Today the role of the NBU is very important in the revival of Ukraine's economy and GDP growth. What will the new monetary policy, will depend largely on the stabilization of the banking system, credit growth, restoring confidence in the banks, the increase in industrial growth of the state. The new Council of the NBU is a lot of work".
During the meeting Council also approved the annual consolidated financial statements of the Central Bank in 2015 and allocation of Central Bank profits.
Yesterday, 24 October, the President of Ukraine has appointed two new members to the National Bank. They were Bohdan Danylyshyn (7 years) and rector of the Kiev Institute of banking, Chairman of the Cherkassk theorganization of the party "Block of Petro Poroshenko "Solidarity" Furman (6 years). To complete the work Petro Poroshenko needs to appoint two of its members.
Four members of the Board appointed in July this year, Parliament: Viktor Kozuka – for 7 years, Elena Shcherbakov – 6 years, Timofey Milovanov – 5 years, Faith Rychakivska for 4 years. The head of national Bank Valeria Gontareva, by law, are automatically included in the NBU Council.
It should be noted that in August 2010 against Bohdan Danylyshyn was prosecuted. Former Minister in the government of Yulia Tymoshenko was accused of causing the state losses of several millions of hryvnia. For a long time he lived in the Czech Republic, where he asked for political asylum.
Comments
comments