170 accident for an hour in Kiev, the first snow fell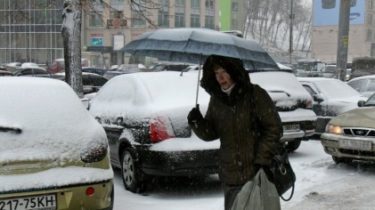 170 accident for an hour in Kiev, the first snow fell
© UNIAN
People in these accidents were not injured.
In connection with the first snow in Kiev just over an hour (as of 19: 30) recorded about 170 road accidents.
About it reports "espresso."
See photos: the Bloody accident in Kiev: on a busy Avenue, the man moved several cars
People in these accidents were not injured. Kiev because of this the number of accidents was in 9-point traffic.
We will note, today in Kharkiv the bus "LAZ" under control of 59-year-old driver was making a regular flight from Kyiv to Kharkiv and collided with the scooter Delta, driven by 69-year-old resident of the village of Babai. In the bus there were children who were sent to Kharkiv Park for a tour.
From the received traumas the driver of the scooter died on the spot. No child was hurt. The children were transferred to another bus, and the tour went along the route.
See also: Top 15 terrible accident this week: a selection of the most serious accidents in Ukraine
In Vinnytsia region there was a deadly frontal accidents involving passenger bus and a van Volkswagen LT 45. Owing to road accident from the received traumas on a place of accident was lost 44-the summer passenger of a minibus.
At the same time, the drivers of both vehicles, a passenger bus and Volkswagen passenger with injuries of varying severity were hospitalized.
Comments
comments