Parubiy filed e-Declaration: compensation exceeds the salary, and the family a new apartment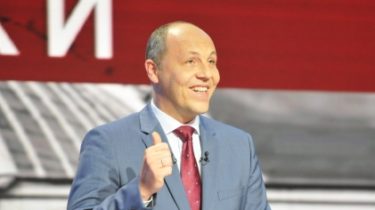 Parubiy filed e-Declaration: compensation exceeds the salary, and the family a new apartment
© The right to Vlad
The speaker boasted on the social network that fought with the site for two days.
Chairman of the Verkhovna Rada Andriy Parubiy filed electronically. As the politician told him it took two days because of problems with the site.
"Almost two days trying to register for E-Declaration. Despite the failures of the NAPC website, today I did it," – wrote paruby.
Almost two days trying to register for E-Declaration. Despite the failures of the website #NAPC @NAZK_gov today I did it. @verkhovna_rada pic.twitter.com/4ViDCEHCmm
— Andriy Parubiy (@AndriyParubiy) 26 Oct 2016
Note that in the Declaration Parubiy pointed out his salary and wife. The speaker earned for the year 78 122 USD salary, his wife was 28.3 thousand. At the same time, Parubiy received reimbursement for costs associated with the implementation of parliamentary powers, payment of travel and hotel rooms in Kiev – a total of almost 270 thousand hryvnias.
On accounts in banks Parubiy holds 225 thousand hryvnias and 28.5 thousand dollars. Immovable and himself a politician, as in the past year, has nothing, except the right of use of a hotel room in Kiev apartment with an area of 41,58 sq m in Lviv. But the family from 1 January 2015 appeared flat in Lviv with the area of 142,6 sq. m. However, on whom it was a new residential area, it is unclear as paruby put her name in the Declaration twice from his wife and daughter, and the right of use listed five of the relatives of the Chairman of the Parliament. Also shown are the previously declared and land on 1130 sq. m, 32 sq m and apartment of 21 sq m.
In the fleet of the speaker also arrived – the speaker of the Suzuki SX4, the wife – the Peugeot 508.
Many officials who have to declare their income, complaining about constant crashes of the system. Press Secretary of the Prosecutor General Larisa Sargan accused in the load of journalists – they say that they just want to see declarations of officials that "bring down" the site.
We will remind, state officials must submit an electronic Declaration prior to 1 November and the deputies did not hurry with its financial statements.
Comments
comments