Savchenko arrived in Moscow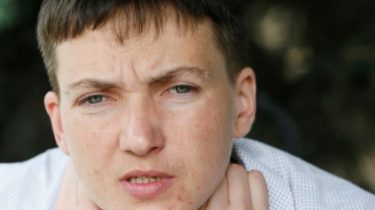 Savchenko arrived in Moscow
© Reuters
The Ukrainian woman arrived at the court Karpyuk and Cliche.
The people's Deputy Nadezhda Savchenko arrived in Moscow.
This was announced on his Twitter page the lawyer Ilya Novikov.
"Hope Savchenko arrived in Moscow to appeal Karpyuk and Cliche in the Supreme court," he wrote.
We will note, today, October 26, in the Supreme court of Russia will hear the appeal on the sentence the convicted Ukrainians Klychu Stanislav and Nikolay Karpyuk. Lawyers for the prisoners said that justice did not expect, and immediately after the Supreme Court's decision will go to the direct lobbying of the liberation of the Ukrainians.
"We expect that this will attract more attention, including from the European diplomats, and not only European. Their attention, their influence on the Russian leadership is now the only key to achieve liberation Karpuk and Klich," – said in comments TSN Ilya Novikov.
In the Supreme court of Russia will hear the appeal on a sentence Cliche and Karpyuk
TSN. Wounds
Today, 08:20
Add to favourites
The meeting will begin at ten in the morning. In may, Chechen court sentenced the Ukrainians to 20 and 22 years of imprisonment in a strict regime colony. Men accused of involvement in the Chechen war more than 20 years ago. And participation in a gang that allegedly provided the assassination of Russian soldiers.
We will remind that previously convicted in Russia, the Ukrainian Stanislav Klyh, who is on trial in Grozny for insulting the Prosecutor, suddenly abandoned the lawyer Marina Dubrovina.
Klyh said in court Monday that he had received "twenty years for nothing for the poor as a lawyer" and said "he wants in his defenders of singer Stas Mikhailov"
As you know, Ukraine Russia sent a dozen requests for extradition Karpyuk and Cliche, last sent in August.
Russian prosecutors demanded to put Karpuk at 22.5 years, and Cliche – for 22 years. May 19, the jury recognized Karpyuk and Cliche guilty. Protection of Ukrainians believe that the jury was pressured. The Ministry of justice said that immediately after sentence begins the procedure of extradition of the Ukrainians.
Case Karpyuk and Cliche fabricated by the Russian investigative Committee and it appears the Prime Minister of Ukraine Arseniy Yatsenyuk. Lawyer Ilya Novikov released new details about, in his words, "this sordid history." In it Russia officially declares that in ' 94 Yatsenyuk was nicknamed "fighter Arsen", fought in Chechnya against Russian troops with Alexander Muzychko known as Sasha White, and former head of the Lviv organization UNA-UNSO Andriy Shkil and, in fact, now defendants in Chechnya Ukrainians – Karpyuk and Klahom.
Comments
comments