Sister Savchenko told how she traveled to Moscow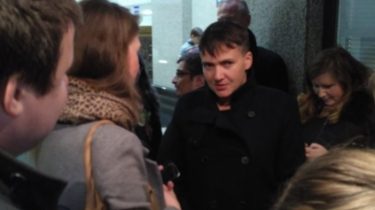 Sister Savchenko told how she traveled to Moscow
© Twitter/The Verge.Ru
The MP came for consideration the appeal case Karpyuk and Cliche.
The people's Deputy Nadezhda Savchenko arrived in Moscow via Belarus.
This was the sister of the MP Vira Savchenko told TSN.
According to her, the Ukrainian woman arrived in the capital of Russia via Minsk, not to take control in the Russian Federation.
We will remind, today, on October 26, the Supreme court of Russia will hear the appeal on the sentence the convicted Ukrainians Klychu Stanislav and Nikolay Karpyuk. Lawyers for the prisoners said that justice did not expect, and immediately after the Supreme Court's decision will go to the direct lobbying for the release of the Ukrainians.
As you know, Ukraine Russia sent a dozen requests for extradition Karpyuk and Cliche, last sent in August.
Russian prosecutors demanded to put Karpuk at 22.5 years, and Cliche – for 22 years. May 19, the jury recognized Karpyuk and Cliche guilty. Protection of Ukrainians believe that the jury was pressured. The Ministry of justice said that immediately after sentence begins the procedure of extradition of the Ukrainians.
Case Karpyuk and Cliche fabricated by the Russian investigative Committee and it appears the Prime Minister of Ukraine Arseniy Yatsenyuk. Lawyer Ilya Novikov released new details about, in his words, "this sordid history." In it Russia officially declares that in ' 94 Yatsenyuk was nicknamed "fighter Arsen", fought in Chechnya against Russian troops with Alexander Muzychko known as Sasha White, and former head of the Lviv organization UNA-UNSO Andriy Shkil and, in fact, now defendants in Chechnya Ukrainians – Karpyuk and Klahom.
Comments
comments