The ex-colleague Carpenter spoke about torture "Martyr" Cycalona in the "prosecution "LC"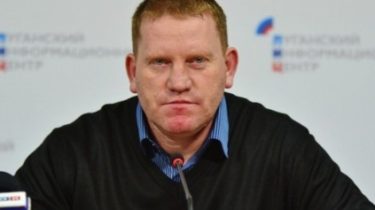 The ex-colleague Carpenter spoke about torture "Martyr" Cycalona in the "prosecution "LC"
Gennady Tsepkalo
On 23 September the Premier was accused of attempting "coup", arrested, and next day was found hanged in the chamber.
The so-called ex-speaker of the Parliament "Luhansk people's Republic" Alexey Karjakin said that eliminated the former "head of government LC" Gennady Cycalona tortured in the "prosecution" of terrorists before found hanged.
He stated this in an interview with "AR TV" – media under control to fighters.
See also: the Militants "Givi" conflicts with Zakharchenko — Tymchuk
"Examination, which did in Lugansk, it is in fact rigged. Gennady broken ribs, numerous bruises, and after all, this was martyrdom. He was tortured, we could not understand why… One arm was broken: either the hammer was broken, I don't know, frankly, what people did, but one hand was smashed," said Koryakin.
"He died fighting. We can say that he was killed in battle," – said the gunman.
In his opinion, published online questioning Cycalona "Prosecutor "LC", "opened the essence of torture". Thus, the former Premier told the organizers of the coup in "LNR" and mentioned an adviser to the Russian President, Vladimir Putin, Vladislav Surkov, the Kremlin's curator of the Donbas.
Earlier Karyakin told Russian media that the leader of "LNR" Igor Carpenter, and also accused him of trying to "coup" in order to return the occupied territories under the control of Ukraine. He also claimed that actually Tsepkalo was killed the personal guard of Carpenter, and in Lugansk as a whole "is now clean of all who were related to the establishment of the Republic."
Comments
comments