Declaration Yarosh: two flats, no cash "stash" and the owner of the brand "Right sector"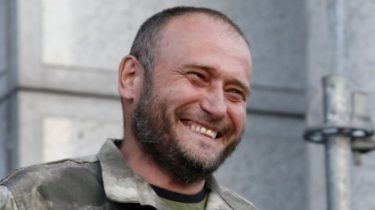 Declaration Yarosh: two flats, no cash "stash" and the owner of the brand "Right sector"
© UNIAN
From Yarosh has two cars and they live only on wages.
Non-faction people's Deputy Dmitry Yarosh announced at the NAPC database of your electronic return for 2015. Last year, he lived only on wages in UAH 37549. Still got 80559 UAH "Deputy" – for the execution of the powers of Parliament.
Dmitry Yarosh also written apartment by 46.4 sq. m and a Skoda Oсtavia 2009 release. His wife Olga – the apartment 53,9 square meters and Opel Astra A5 2006 edition.
Yarosh also noted that he is the owner of the brand "Right sector" from 25 June 2015. Note that six months after he said that out of the "Right sector" and create a new socio-political movement.
Cash, funds in Bank accounts, financial obligations Yaroshi, according to the Declaration, have not.
Recall that in 2014, Yarosh has stated that he has no official income and lived on the assistance of caring people. In his Declaration for 2013 was listed the same apartment and car, in return for the 2015.
Comments
comments