In Ukraine went to the 57th Russian "Humanos"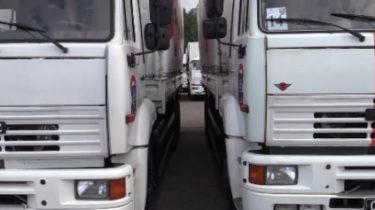 In Ukraine went to the 57th Russian "Humanos"
© EMERCOM of Russia
Ukraine outraged by the entry into its territory of so-called "humanitarian convoys" from Russia.
Russia sent in Donetsk and Lugansk 57-in a convoy supposedly carrying "humanitarian aid".
This was reported in the press service of EMERCOM of Russia, write"RIA Novosti".
"At 04.00 GMT more than 40 vehicles with "humanitarian aid" came from don and rescue emergency center in the village of Kovalevka in the Rostov region towards the Ukrainian-Russian border. They carry over 400 tons of "humanitarian aid", – said the representative of the Russian Ministry.
See also: Ukraine has driven Russia's "humanitarian convoy" with 600-ton load
Recall that Russia sends "humano" in the combat zone in the Donbass since August of 2014. Customs and border guard services of Ukraine are not allowed to inspect these trucks. According to the Ukrainian side, along with boxes of food Russia is supplying weapons, ammunition and anti-tank grenades. The Ukrainian foreign Ministry repeatedly demanded from Russia to stop violating Ukraine's sovereignty under the pretext of delivery of the so-called "humanitarian aid".
In Lugansk the next Russian "Humanos"
TSN. Wounds
23 Jun, 08:17
Add to favourites
It is 53. Russian chrezvychainyi reported that he had sent to the occupied Donbas 40 vehicles, in which 400 tonnes of allegedly humanitarian cargo. Traditionally, the convoy crosses the border not controlled by Ukraine territory, without customs clearance and inspection. Ukrainian intelligence says that in such gumkonvoi militants bring weapons and ammunition. Upon arrival of each number of attacks is rising sharply.
Comments
comments