12 hours and millions in the Bank. Groisman published a Declaration of income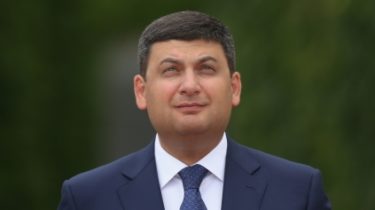 12 hours and millions in the Bank. Groisman published a Declaration of income
© Getty Images
Premiere home located in the suburbs of Vinnitsa.
Prime Minister of Ukraine Vladimir Groisman has published their electronic income tax return.
According to the document, the head of the CMU four plots of land in Vinnytsia region, the largest of which area of nearly 6 thousand square meters.
In the village of Bohoniki in the suburbs of Vinnitsa, Ukraine in two houses at 534 and 461 square meter. They were purchased in 2004 for 303 and 185 thousand UAH respectively. The Prime Minister, there are five non-residential premises and the apartment with an area of 61.5 square in Vinnitsa.
See also: one Third of the apartment and the fee from the publisher. Savchenko has published a Declaration of income
Four apartments in Vinnitsa with area of 61,5 Groysman declared for himself, his wife Elena and daughter Christina with a note "More right" one. Four more apartments, but in Kiev are listed under the same column.
In the document the head of the government pointed out a collection of 12 hours of prestigious brands and two pairs of cufflinks made of precious metals inlaid stones. None of the accessories does not include the cost. Wife Groysman declared three rings and three pairs of earrings made of precious metals.
The Prime Minister has the Range Rover 2013 release nearly half a million hryvnias, his wife – Volkswagen Touareg 2011 for 800 thousand hryvnia.
Salary Groisman was 77 thousand 270 hryvnias. More than 1.4 million UAH he received as the income from providing property for rent. The wife of the Prime Minister received 28 thousand 400 hryvnias of a salary and more than 1.4 million from business activities. The document also stated an allowance at the birth of the child in the amount of 15 thousand 253 hryvnias.
The head of the government keeps the cash of 2.38 million, 870 thousand and $ 460 thousand euros. In the accounts, in different banks over 2.1 million and 16.2 thousand euros.
Earlier, the Chairman of the Verkhovna Rada Andriy Parubiy filed electronically. As the politician told him it took two days because of problems with the site.
Note that in the Declaration Parubiy pointed out his salary and wife. The speaker earned for the year 78 122 USD salary, his wife was 28.3 thousand. At the same time, Parubiy received reimbursement for costs associated with the implementation of parliamentary powers, payment of travel and hotel rooms in Kiev – a total of almost 270 thousand hryvnias.
Comments
comments