Inflation and damage to business from the increase of the minimal wage will not be.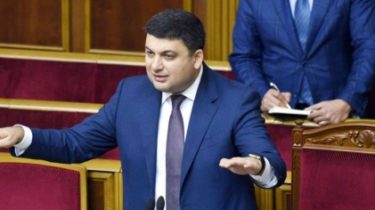 Inflation and damage to business from the increase of the minimal wage will not be.
© UNIAN
The Prime Minister refutes the fears of economic experts.
The increase in the minimum wage doubled to RS 3200 corresponds to the overall budget balance does not entail inflation and will not harm the business. This was stated by Prime Minister of Ukraine Volodymyr Groysman during the official visit to Paris.
"Due to the fact that we will de-shadowing of wages, due to the fact that we begin to pay fair wages, the budget will be balanced. The deficit will not be exceeded more than 3%. No problem, we will not. I just confirm and emphasize. This is consistent to our overall balance," he said.
At the same time, Groisman noted that under these changes it is necessary "to rebalance the budget," but, says the head of the government, General budget figures and the deficit will not change.
The Ministry of Finance and Ministry of social policy on behalf of the Prime Minister now needs to put this figure in the budget for 2017. In the second reading of the document by Parliament, the minimum salary will be RS 3200.
"No negative financial economic impact it will have. What can be negative effects when people begin to receive their earned wages?" – said Groisman.
The Prime Minister also stressed that honest business will not suffer from the implementation of this decision.
According to the Prime Minister, as of September 15, when the government submitted the draft budget to Parliament, there was clear calculations and decisions. As soon as they appeared, the government informed the public about finding solutions.
On the eve of Prime Minister of Ukraine Vladimir Groisman made a sensational statement – the minimum wage in Ukraine from 1 January 2017 will be doubled. His statement strongly supported President Poroshenko. However, economic experts fear that the increase of the minimal wage would entail increasing the tax burden on employers, and as a consequence, staff reduction and more shadow wages. In addition, predict inflation and elimination of subsidies for many citizens.
With the New Year the minimum wage in Ukraine could grow by half
TSN. 16:45
Yesterday, 17:10
Add to favourites
She will be 3 thousand 200 hryvnias. This was announced by Volodymyr Groysman. The money is there, it is up to Parliament. The Prime Minister boasted that for the first time in 25 years in Ukraine, the minimum wage will catch up with the cost of living. Going to increase and pensions – although only ten percent.
Comments
comments