Amnesty International called Russian court on CLICOM and Karpyuk, "a parody of justice"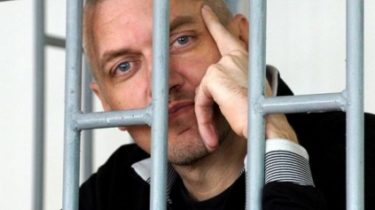 Amnesty International called Russian court on CLICOM and Karpyuk, "a parody of justice"
© Facebook/Anton NumLock
Human rights organizations believe that the trial of the Ukrainians "propaganda demonstration".
Ukrainians Stanislav Klyh and Mykola Karpyuk, convicted in Russia for 20 and 22.5 years in prison, respectively, were victims of a travesty of justice.
This is stated in the statement by the Director of the human rights organization Amnesty International Europe and Central Asia John Dalhuisen.
"The case of Russia against these people defies logical explanation. Numerous violations of fair trial and flimsy evidence for the prosecution testify to a fabricated case," he said.
Dalhuisen noted that the Ukrainians are deprived of access to their lawyers and, according to prisoners, knocks torture a confession about the murders of Russian soldiers in Chechnya in the 1990-ies.
"Instead of trying to fix this glaring travesty of justice, the Supreme court again considered the evidence and upheld the allegations of fact in this propaganda-demonstration of the judicial process."
Besides, the human rights organization noted that none of the cases about torture of Ukrainians in the isolation ward, and regarding the fact that they were not allowed to contact their lawyers, while the state-appointed lawyer in Russia, was on maternity leave during the interrogation of the defendant of Cliche was investigated.
"The Russian authorities must investigate serious allegations of torture by law enforcement agencies, as well as denial of access to lawyers," – protested Dalhuisen after the appeal hearing in Moscow.
Separately, the Director of the organization called for an immediate viewing Kleha, who had no mental illness, and during a court session undressed in the hall, hung with his head, could not remember date of birth and asked to be defended by a Russian singer Stas Mikhailov. However, the court rejected the requests for psychiatric examination and found him able to stand in court.
"Ignoring the health status of Stanislaus CLIA, despite evidence of its vulnerability, is fierce and inhuman. He should be examined by an independent medical specialist as soon as possible," added Dalhuisen.
We will remind, the Russian Prosecutor's office demanded to put Karpuk at 22.5 years, and Cliche – for 22 years. May 19, the jury recognized Karpyuk and Cliche guilty. Protection of Ukrainians believe that the jury was pressured. The Ministry of justice said that immediately after sentence begins the procedure of extradition of the Ukrainians.
Case Karpyuk and Cliche fabricated by the Russian investigative Committee and it appears the Prime Minister of Ukraine Arseniy Yatsenyuk. Lawyer Ilya Novikov released new details about, in his words, "this sordid history." In it Russia officially declares that in ' 94 Yatsenyuk was nicknamed "fighter Arsen", fought in Chechnya against Russian troops with Alexander Muzychko known as Sasha White, and former head of the Lviv organization UNA-UNSO Andriy Shkil and, in fact, now defendants in Chechnya Ukrainians – Karpyuk and Klahom.
On the eve of the judicial Board on criminal cases of the Supreme court of Russia affirmed the sentence of the Ukrainians, who were illegally convicted and dismissed the appeal.
Comments
comments