The Chairman of the national Commission, which sets tariffs, declared 420 thousand cash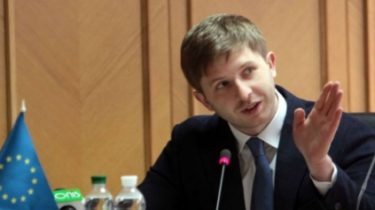 The Chairman of the national Commission, which sets tariffs, declared 420 thousand cash
© UNIAN
The official salary for last year was only 69 thousand.
Chairman of the National Commission, carrying out state regulation in the spheres of energy and communal services Dmitry Vovk last year received UAH 68997 salary for the year. That is an average of 5,7 thousand UAH per month. At the same time, it has accumulated cash of $ 360 thousand and 60 thousand euros.
Such data wolf resulted in its Declaration. He also pointed out that the owner of the car Infiniti M35 2006 release (the cost at the time of acquisition – 315 thousand UAH), two elite wristwatch Ulysse Nardin and IWC. And yet the official is 243,2 m in Vasylkiv district in Kyiv region Kiev apartment 41.3 sq m, and he is also the co-owner of the third apartment in the capital 80.4 sq. m. the official also there are two plots in the Kiev region – 10 acres and 3.3 acres.
In the previous Declaration of the Wolf 2015, it was stated that he had Bank accounts 1 million 66 thousand UAH. But it was during the making of coal formula "Rotterdam+" wolf registered the Mercedes GL 550 2010 edition, which costs 40 thousand dollars. The seller of the car made Lily Silchenko, partner wolf. About it writes "Economic truth".
In February Silchenko bought a house in the village Ivankovic near Kiev. The cost of the mansion, which previously belonged to the late Deputy Chairman of the Verkhovna Rada and co-founder of the TV channel "inter" Alexander Zinchenko, realtors estimate 1.5-2 million dollars. Neighbours are ex-Minister of fuel and energy Yuriy Boyko and ex-ecology Minister Mykola Zlochevsky.
Dmitry Vovk, who initiated the increase in tariffs, may keep his job for another year and a half
TSN. 19:30
September 22, 20:01
Add to favourites
The Verkhovna Rada adopted the law on the National Commission of regulation of power in the wording which gives the President control over the appointment of members of the Commission and, in fact, protects against the dismissal of her head Dmitry Vovk for a year and a half, who is suspected of fuelling the oligarchs from power.
Comments
comments