Groisman reported strategic advisors to sharply increase the minimum wage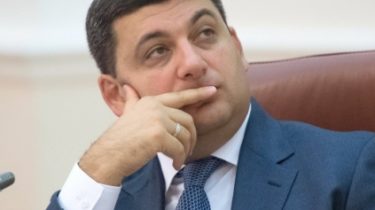 Groisman reported strategic advisors to sharply increase the minimum wage
© UNIAN
According to the head of strategic advisors, this solution requires multiple calculations.
Raising the minimum wage up to RS 3200, which was proposed by the government, was "an unpleasant surprise", which did not know the advisors and international partners of Ukraine.
This was at the briefing said the co-chair of the Strategic group of advisors Leszek Balcerowicz, UNIAN reports.
"An unpleasant surprise was yesterday. I want to say that neither I, and none of the international organizations didn't know about it, that will increase to 100% of the minimum wage. More importantly, we were not able to see the costing, which supports this decision," he said.
Balcerowicz noted that this was already the second unpleasant surprise from the government this year. The first was the extension of the moratorium on sale of farmland.
See also: "do Not believe? Will come to me." Poroshenko assured that the minimum salary will increase to 3200 UAH
"I don't mind that there were less poor people. But poverty is eliminated by economic growth, but accelerated growth requires the acceleration of reforms," he said.
According to him, this solution requires multiple calculations.
The adviser noted that I was very surprised by the proposal of the Chairman of the State fiscal service about raising the minimum wage by more than 100% without a single justification.
"It seems that it's a competition in populism within the government," he said.
Balcerowicz added that to overcome poverty in the future, it is necessary to balance the budget, reduce inflation and improve the business environment.
Read also: Increase of the minimal wage may lead to reduction of subsidies and inflation – experts
Recall, the Cabinet of Ministers at its meeting on October 26, proposed to double in 2017 the rate of the minimum wage to UAH 3200, whereas in the draft budget for the current year laid her promotion from December 1, only up to 1600 UAH.
Therefore, the government intends to equalise the minimum wage with the actual and not regulatory cost of living.
In turn , Prime Minister Groysman saidthat raising the minimum wage corresponds to the capacity of the economy and the government can provide it from January 1, 2017.
According to the Vice-Prime Minister Pavlo Rozenko, the Cabinet plans in a few weeks to publish and present to Parliament a calculation of additional state budget expenditures for 2017 in connection with the adoption of the decision to raise the minimum wage.
Comments
comments