In Kiev at the intersection of Renault flew in the ambulance: driver legkovik died, doctors injured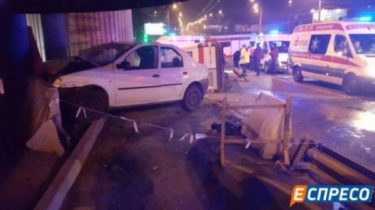 In Kiev at the intersection of Renault flew in the ambulance: driver legkovik died, doctors injured
Kiev
Today, 08:59
1 of 6

© Еспресо.TV

1 of 6

© Еспресо.TV

1 of 6

© Еспресо.TV

1 of 6

© Еспресо.TV

1 of 6

© Еспресо.TV

1 of 6

© Еспресо.TV
© Еспресо.TV

© Еспресо.TV

© Еспресо.TV

© Еспресо.TV

© Еспресо.TV

© Еспресо.TV
According to witnesses, the ambulance driver ran two red light and cause an accident.
Friday, October 28, in the Goloseevsky district of Kiev there was a terrible accident involving an ambulance and legkovik. The accident killed one person, reports Еспресо.TV.
According to witnesses, the ambulance at high speed crossed the intersection on a red light. At this time, green moved to Dacia. So, the car was hit in the side of the ambulance, which overturned.
In addition, witnesses said that the sound signal and the beacons of the ambulance driver turned before the crossing.
See photos: a large-Scale accident in Vinnytsia: a truck rammed three cars, completely crushing the car
In the accident injured 3 doctor and the driver of the car. He later died in the ambulance.
At the scene working firefighters, patrol and medics.
We will remind, in the center of Odessa late in the evening of October 26, occurred a large road accidentin which two people died and four were injured. The driver of the SUV "BMW X5" collided with the "Moskvich", and then demolished the people at the bus stop, and then crashed into the wall of the house.
Comments
comments