Aggro from Pussy Riot showed what will happen to US in case of a victory trump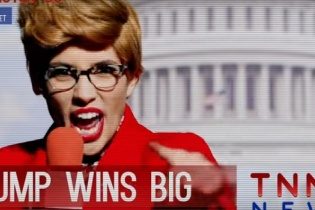 Aggro from Pussy Riot showed what will happen to US in case of a victory trump
© YouTube/Pussy Riot
Punk band original called not to vote for a Republican.
Scandalous punk band Pussy Riot have released a video in English with criticism of the candidate in presidents of the United States Donald trump.
The song is called "Make America Great Again" ("let's Make America great again") is one of the campaign slogans trump. In the clip embedded speech candidate, where he called to build a wall on the border with Mexico, not to let in migrants and Muslims.
In the video it is shown that, in the opinion of Pussy Riot, will be with America in case of a victory trump in the election. The main character video, forced to speak only English, she is refused entry in the United States, assess its charms and put the stigma of "Fat pig" and condemn without guilt in prison, sexually harassing, and humiliated because she had an abortion, and eventually killing her, the police, and the woman's body to give to the authorities.
See photos: Pussy Riot t-shirts with crosses made on the same stage with Madonna and the widow Lennon
Punk-rock band Pussy Riot is known for his appearances in the format of unauthorized actions in unauthorized locations, in particular in the Cathedral of Christ the Savior. The presentations and when communicating with the press, the group face knitted Balaclava. They always wear light bright dresses and colored stockings.
Comments
comments