Russia lost the election to the Council of human rights UN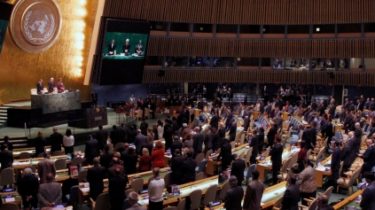 Russia lost the election to the Council of human rights UN
© Reuters
Members of the Council in 2017-2019 were elected 14 States.
Russia was not reelected to the UN Council on human rights.
This writes TASS.
That is, Russia will leave the UNHRC at the end of this year.
During the voting, which took place in the General Assembly, Russia has supported the 112 member States of the UN, while for Croatia voted 114 countries.
Members of the Council in 2017-2019 were elected 13 States, including the UK, Iraq, China, Saudi Arabia and the United States.
See also: After Radbuza UN Syria reserved the right force to respond to the ceasefire violations
We will remind that earlier the UN security Council blamed the Syrian authorities to use chemical weapons.
The document was prepared after a 13-month investigation, which conducted the UN and the organization for the prohibition of chemical weapons. Chemical weapons were allegedly used in the village of Kaminas March 16, 2015.
Comments
comments