"Homeless", he declared know-how "Black men" and a collection of knives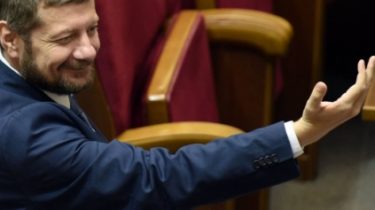 "Homeless", he declared know-how "Black men" and a collection of knives
© UNIAN
The Deputy did not trust banks and keep their savings only in cash.
MP from the Radical party Igor Mosiychuk has no real estate, but has a collection of antique bladed weapons and the right of ownership to know-how – the name of the unit of volunteers "Black men".
This is stated in his Declaration for 2015.
In particular, the Chairman has a Chinese sword from the 14th century, a Turkish scimitar 16th century, daggers Nazi SA and SS units, British broadsword of the 16th century, six French swords 16-17 century, two Ukrainian swords of the 16th century, the Dagestani dagger 17th century, three Spanish swords 17-18 century, four German sword 18-19 century, the ceremonial sword of the Russian Empire, and 4 of the Portuguese sword 16th-17th century.
See also: Fleet and hours from St. Nicholas: the deputies continue to amaze e-declarations
He also has two icons of the 18th century and five paintings. In addition, he wears a Swiss watch brand "Roger Dubui".
Igor Mosiychuk drives two cars – a Mercedes GL450, and the Lexus LX570, both cars of 2008 of release.
In 2015 he received the salary of the Deputy in the amount of UAH 58 777, another 85 559 UAH – funds provided for ensuring Deputy activity. Income from the alienation of movable property amounted to 149 thousand UAH.
The Deputy keeps his money in cash only: 183 thousands of $ 145 thousand euros and 780 thousand hryvnias.
See also: Scandalous ex-the battalion commander "Aydar" Melnychuk has declared a trillion hryvnias cash
Recall, the season fill electronic returns is about to end. Now, in the night of Monday, October 31, the system will not accept information from Ukrainian officials. For the last time officials are particularly intensified. In particular, as of October 28, filed a Declaration more than 70 thousand officials. Top scandalous e-returns read on the TSN website.ia.
Ukrainians continue to learn about the incomes of Ukrainian officials
TSN. 19:30
Yesterday, 20:21
Add to favourites
The Chairman of the National Bank Valeria Gontareva, which has repeatedly called on Ukrainians to keep their money in UAH, she accumulates them in dollars – they have it on account of one of the state banks $ 2 million, and independent Deputy Vyacheslav Konstantinovsky holds almost $ 150 million in cash. More information in the story TSN.
Comments
comments