Battalion "Phoenix" of the 79th brigade returned to Nikolaev lossless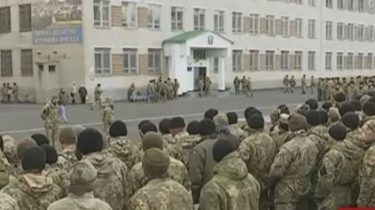 Battalion "Phoenix" of the 79th brigade returned to Nikolaev lossless
Demobilized military is ready to return to contract service
More than a year military battalion "Phoenix" of the 79th air assault brigade have been in the ATO. Performed complicated tasks. Marines gained fame as enduring and returned home without loss, says TSN.16.45.
Under Mariupol to Nikolaev heroic third battalion of the 79th Phoenix came back in the morning. Returning home the boys were waiting for a year. To the peace of the territory still getting used. After the meeting starts the official part. Paratroopers line up in front of the brigade flag.
The commander is happy, the guys returned without losses and combat mission fulfilled.
Legendary battalion "Phoenix" has already been called indestructible. On the front lines, these Marines terrified the terrorists.
Battalion "Phoenix" lossless returned to his military unit in Nikolaev
TSN. 16:45
Today, 17:16
Add to favourites
Soldiers of the 79th airborne brigade returned today to Nikolaev. More than a year the guys have been in the ATO. Performed complex tasks. Paratroopers received enduring fame and returned home without loss.
"Said the intelligence defections from the other side, when they learned that now fit 79 brigade. Not only the 3rd battalion, and the entire 79 team", – says adviser to the President of Ukraine Yuri Biryukov.
For military merit more than 70 tonnes of paratroopers of the battalion will receive the insignia from the Ministry of defence. And then they meet with the family.
Now all these guys are demobilized. The city promises a supporting role – will teach how to start their own business. However, a lot of men have decided to sign a contract. Will serve to complete victory. For power, I assure you, in our army to return their Eastern border. Just waiting for the order.
Comments
comments