Groisman wanted to expand the list of those who have to declare income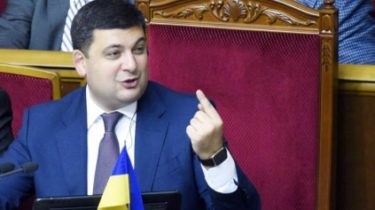 Groisman wanted to expand the list of those who have to declare income
© UNIAN
The Prime Minister proposes to add representatives of state-owned companies.
The list of persons who are required to complete the electronic Declaration should be expanded. For this, the Prime Minister of Ukraine Volodymyr Groisman.
"Now we need to expand the list of all those who must submit such declarations. It should be including, and those who were not included, for example, representatives of state companies. It would be interesting to look at who is not included in this list, that such Declaration was filed," – said the head of government.
In addition Groisman urged to report not only on income but also about their origin.
"Everyone must now answer for his Declaration, where was the money taken. For example, I wonder if the person all life worked in the government, where hundreds of thousands of dollars? Importantly, the Declaration system ordered each to honestly declare that he has, and it is very important to check if all this honesty was confirmed," – said the Prime Minister.
Regarding his Declaration, the Prime Minister said that most property acquired prior to 2006 in the days of their entrepreneurial activities.
Income Ukrainian officials learn the material: That declare Ukrainian top politicians. InCE e-Declaration in one place
Fantastic amounts of cash: the deadline for the submission of electronic declarations
TSN. Wounds
Today, 12:14
Add to favourites
An hour before the deadline electronic Declaration, details of their income published by the President of Ukraine. In the Declaration of Peter Poroshenko – luxury house near Kiev, and more than 40 hectares of land in the Metropolitan area. Cash the President of Ukraine holds 60 thousand and $ 900 thousand hryvnias. Other officials and MPs showed much more love for cash.
Comments
comments