Dekanoidze told about three apartments in Georgia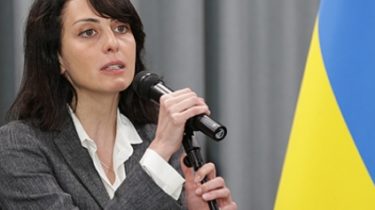 Dekanoidze told about three apartments in Georgia
© Department of communication of national police of Ukraine
The head of the national police have dreamed, would have spent 5% of the declared state officials.
The head of national police Khatia Dekanoidze owns three apartments in Georgia and in Ukraine takes shelter.
She stated this during a briefing, said the TV channel "112 Ukraine".
"I can tell you that I have for the property. The first is the apartments, which I have. This is where my parents live, it is my personal apartment, where I live and lived in Tbilisi, and the apartment of my deceased spouse that will go to the child when he turns 18 years," she said.
According to Dekanoidze, she paid all the loans of the family, so as soon as she has a high salary. Also the head of national police assured that the real estate in Ukraine, and lives in a rented apartment.
"To be honest, if the national police was 5%, which has been declared, we would have all dressed, repaired all the buildings, put all the police, they would have worked all in transparent buildings," Dekanoidze added, hinting at the total amount declared by the officials of income.
Note the head of the national police pointed out in the e-Declaration of three apartments with an area of 129, 69 and 87 sqm, land plot 1800 sqm, as well as Hyundai Elantra 2012 model year. Dekanoidze also contributed to the document two salaries: 88,760 thousand UAH in Ukraine and almost 3,432 million UAH in the American company MPRI International Services LTD, an Corporation Engility. In Bank accounts in Ukraine, it has 33,231 thousand UAH and 108 55,936 thousand lari and lari in Georgia. At the same time Dekanoidze stated that paid on loans almost 183 thousand dollars.
We will remind, the Prosecutor General Yuri Lutsenko said that the NAPC will go to the officials to visit and list of declared cash. According to the head of the GPU, specified in statements of means and things should be available.
Comments
comments