GPU check MPs with cash "under the mattress" and too generous donors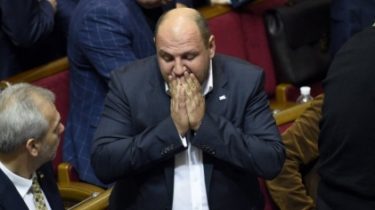 GPU check MPs with cash "under the mattress" and too generous donors
© UNIAN
Lutsenko said that the data of e-returns will fall under careful analysis.
About half of the deputies of the Verkhovna Rada declared that more than 100 thousand dollars cash, and it will check the Prosecutor General's office of Ukraine. This was announced by Prosecutor General Yury Lutsenko.
The head of the GPU said that the check, paid for of these state taxes.
"We will analyze the Declaration of half of people's deputies of Ukraine, who have declared more than 100 thousand dollars in cash. This analysis will consist of applying to the State fiscal service to provide information about payment or non-payment of taxes. Accordingly, elected officials can get in, or do not fall under article 212 of the criminal code – tax evasion," – said Lutsenko.
Read also: Cabinet 150 million: how many are to go and what Ministers Groisman
If there is a failure to pay taxes of the States, the people's Deputy faces 2 to 15 years of imprisonment – the period depends on the sum of money. Further investigation, Lutsenko says, can bring to the offence under article 209 of the criminal code – laundering of proceeds of crime. This article is subject to the General jurisdiction of the GPU and NABOO.
Not cash only will test the Prosecutor General's office. Analyzes and Bank deposits that exceed UAH 150 thousand, and such deposits has the most MPs. The GPU will prepare a submission to the state service for financial monitoring to check the legality of funds in the accounts.
Under the attention of the GPU will fall and gifts worth more than 10 thousand dollars. As noted by Lutsenko, the deputies, this item will not be big consequences, but it allows you to check donors in, could they generously bestow deputies, will check in the SFS on the performance of the GPU.
See also: declare That Ukrainian top politicians. All e-Declaration in one place
Will not pass accounts abroad, which indicated a declarants. In particular, as Lutsenko noted, it concerns one of the Ministers. DFS will check to see whether taxes are paid on these accounts.
Will also check the foreign real estate of officials and of corporate law, namely whether a state officials from the governing bodies of the companies before you go into public service. As reported, Lutsenko, not all declarants have complied with the requirements of the laws regarding the prohibition of combining. These two items will test NAPC.
Note that NAPC is preparing a test plan declarants – the officials will come and check whether the presence of the declared assets. Verification of declarations announced and the National anti – corruption Bureau – in the first place under the inspection of fall MPs, judges and prosecutors.
Officials declared some cash a lot of weigh, for example, a weight of cash, one of the MPs more than twice the weight of heavyweight boxer. Significant details to learn in our test: Which weighs more: cash Kernes or five hundred Iphone7?

TSN.ua
Comments
comments