Heavyweights e-Declaration. How much cash in pounds store of Ukrainian politics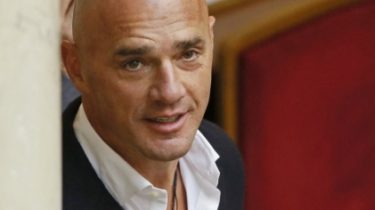 Heavyweights e-Declaration. How much cash in pounds store of Ukrainian politics
© UNIAN
TSN.ia "weigh" the Declaration published on the website of NACP.
After the promulgation of the electronic declarations on the income of politicians and officials in the social media uproar regarding the amount of cash that keep the Ukrainian powers.
To ordinary Ukrainians was to understand the scope of "cache," which politicians are held, TSN.ia made an infographic explaining how much money is in kilograms keep declarants.
Used to calculate bills highest denomination is 500 UAH, 500 euros and 100 dollars and the weight of each bill. Not take into account funds, kept in Deposit boxes.
See also: "a gift from the Mikalaichyk," a ticket to space and Holy relics. Guess who the politicians it owns
So, let's get to the ten percenters. Has headed a rating of out of 10 the "cash barons" member of the parliamentary faction of the party BPP Bogdan Dubnevich. In the Declaration, he pointed out that holding cash of 11.5 million dollars. His wife holds 137 million. In General, a family Dubnevich have 313 kg of cash in UAH and 115 kg in dollars.
Second in the list was another MP from the PPO Ruslan Demchak. According to the document, it stores 133 million in cash that will weigh 304,7 kg.
See also: All the property was purchased to the presidency: Poroshenko commented on his Declaration
Was the third member of the Verkhovna Rada Committee on national security and defence, non-faction people's Deputy Vyacheslav Konstantinovsky. He dropped 14.7 million dollars cash, 6 778 776 UAH and 500 thousand euros in cash. "Cache" Constantine hung at 15.5 kg in UAH, 147 kg in us dollars and 1.1 kg in Euro.
Fourth on the list was the brother of the leader of the "cash barons" Bogdan Dubnevich Yaroslav. The people's Deputy from BPP declared 8,23 million $ 2.78 million Euro and 5 million cash. His wife is 730 thousand and $ 280 thousand hryvnias. All the cash in his Declaration will weigh 11,45 kg in UAH 89,6 kg in us dollars and 6.8 pounds in euros.
Fifth among cash rich people became the people's Deputy from "Opposition bloc" Nestor Shufrych. Cash it holds 25 million UAH, 4.23 million – $ 3, 750 million in Euro. Cash Shufrych weighs 57 kg in UAH, 42,3 kg in dollars and 8.4 kg in Euro.
Just a list of ten cash barons got politicians and officials who have declared at least 30 pounds of cash.
The President of Ukraine Petro Poroshenko was not included in the top ten. He holds in cash 60 thousand and $ 900 thousand UAH, that is 2 kg in UAH and 0.6 kg in dollars.
For details, see the infographics.

TSN.ua
Comments
comments