Militants "DNR" planted in 14 years the man called the organizer of the assassination attempt on Zakharchenko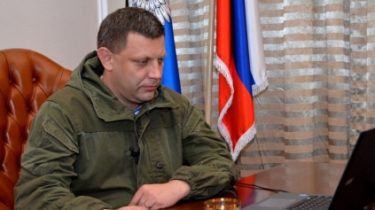 Militants "DNR" planted in 14 years the man called the organizer of the assassination attempt on Zakharchenko
Maxim Terentia considered "an agent of the SBU".
In non-government controlled areas of Donetsk region "Supreme court" of the separatists was sentenced to 14 years imprisonment a man for the assassination attempt on the leader "DNR" Alexander Zakharchenko.
About it report "news of Donbass" with reference to the website of the separatists DAN.
Maxim Reorienter called the organizer of the assassination attempt on Zakharchenko. According to the separatists, he is an "agent of the security service", in April of this year, arrived in the occupied territory with a group of citizens of Ukraine who intended to undermine the leader of the "DNR" in the shooting club "Artemida" in Donetsk. The militants claim that they were detained.
"SBU agents" allegedly intended to use to assassinate a powerful explosive device disguised as a piece of furniture. The militants believe that Maxim Teoranta laid explosives.
We will remind, the composition of explosives and the construction of the bomb, which was killed one of leaders of fighters of "DNR" Arseny Pavlov, nicknamed "Motorola", similar to what was found in the assassination of the head of the militants "DNR" Alexander Zakharchenko in April 2016. To such conclusion experts of the forensic "center MIA" came on the basis of the study of fragments discovered at the scene of an explosive device.
Comments
comments