In Khmelnytsky oblast military Commissioner "otmazatsya" from the call for five thousand UAH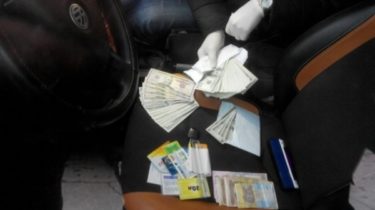 In Khmelnytsky oblast military Commissioner "otmazatsya" from the call for five thousand UAH
Money
Today, 14:13
1 of 3

© Press service of the SBU

1 of 3

© Press service of the SBU

1 of 3

© Press service of the SBU
© Press service of the SBU

© Press service of the SBU

© Press service of the SBU
The extortionist demanded money from a local resident for assistance in draft evasion.
Khmelnytsky region exposed in bribery of the military Commissioner of one of United city military Commissariat.
About it it is spoken in SBU message.
Law enforcement authorities established that the Lieutenant Colonel demanded five thousand hryvnias from the local for assistance in evading military conscription service.
Security officers have detained the extortioner in his own car after obtaining all sum of a bribe.
During the search of the car, investigators found the wing commander nine thousand dollars.
The criminal proceedings are opened, the investigation continues.
See also: In Lutsk, the military Commissar of the drunk crashed into a taxi and disappeared
We will remind, in Krivoi Rog district commissioners organized "factory" for the evasion of mobilization. The author and leader of the scheme was the Colonel – he's the father of one of the current military commissioners of the city.
Comments
comments