Khotyn fortress was celebrated the wedding of two members of the ATO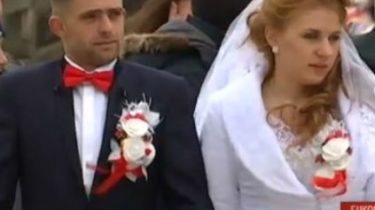 Khotyn fortress was celebrated the wedding of two members of the ATO
Roman and Daria – servicemen 8 separate mountain assault brigade.
Recognition under attacks, and wedding in Khotyn fortress. In Bukovina were married two members of ATU, says TSN.Night.
For wedding couples on the territory of Khotyn fortress was used to. But this was special. Roman and Daria just one day replaced the usual uniform for festive outfits. Mother of the bride recognized her 20-year-old daughter from the beginning of the ATO pestered the recruiting office. Now she is worried about her every day.
"We gathered and went herself, she conceived, and she went," says the mother of the bride.
Read also: Poroshenko came to the wedding of a couple from Donetsk
The girl succeeded, she took the service contract. However, the dream to defend the homeland with weapons in hand to implement failed.
"Girls have the right to be only on the positions of clerk and chefs, I chose the clerk," says Darya Velichko.
My husband and Daria met on the train while moving military units on the ground. 22-year-old Novel, the unit commander of the snipers was already behind the fighting in the Luhansk airport, near shchastya and Stanytsia Luhanska. They met only a few months. To marry Roman offered the girl on the phone when their positions have covered with mortars.
"On the phone, under fire, mines fell, was sitting in the corner, I thought that all ended well. Called her, said I hear do we have here? And here the already proposed", – says Roman Sojm.
On the balcony of the Princely Palace, in the middle of the Khotyn fortress, the bridegroom gives a pledge of allegiance to the bride. Witnessing the ceremony are not only friends and relatives, and tourists who watch the brides from the ancient walls of the fortress.
The girl says, the ATF had taught her to appreciate every minute of life.
Read also: In Moscow, the couple ran away with the wedding guests, not to pay for the Banquet
"What about those meetings for a couple of years meet and diverge. Life is short, and I don't know when that moment will happen when it will end", – says Daria.
The couple will relax at home for about a week. Then both come back at the disposal of their units. Will serve to win.
Comments
comments