Paruby signed a decree on increasing the salaries of MPs to cancel it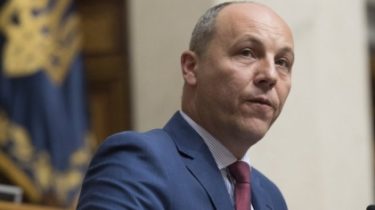 Paruby signed a decree on increasing the salaries of MPs to cancel it
© UNIAN
The increase in parliamentary salaries could cost the Ukrainian budget in a quarter of a billion.
The head of the Verkhovna Rada Andrew Parubiy signed the draft of the resolution No. 5000-P, according to which from 1 November, should increase the salaries of members of Parliament.
Relevant information appeared in the evening on the website of BP.
Later the head of the Ukrainian Parliament Andrei Parubiy explained that the signing of a decree on increasing the salaries of MPs was a necessary legal step.
"I was not able to make even the decision to change the old regulations have not yet signed it. Now that it's signed, I immediately registered a new decree that paragraphs 3 and 4 of raising the salaries of deputies simply excluded," – said paruby.
But this afternoon, the speaker of Parliament Andriy Parubiy assured that the leaders of the factions in favor of the abolition of increase of salaries to deputies.
"Today we met with the leaders of the factions. Agreed that the decision to increase the salaries of MPs need to change. So, the decision to increase salaries was wrong. But we show that they can admit mistakes and quick to respond," he said.
In turn, the leader of the faction "people's Front" Maxim Burbak stated that this issue will be voted on Tuesday, November 1.
See also: the danger of raising the minimum wage
Recall that the increase in parliamentary salaries will cost the Ukrainian budget in a quarter of a billion. Not all MPs could accept responsibility for voting for the resolution on twofold increase of their wages. Many of the deputies explained that in General voted for the draft budget for the next year and didn't really get a grasp of the documents.
Andriy Parubiy promised that parliamentary salaries will not grow
TSN. 19:30
25 Oct, 19:52
Add to favourites
The resolution adopted last Friday, he's still not signed. At the next plenary meeting on Tuesday, according to forecasts of the speaker, deputies will make changes to it – will remove the clause that stipulated the increase in the parliamentary salary to an average of 36 000 UAH.
Comments
comments