Money out of nowhere. The Minister Kasalica at the salary in 7 thousand UAH in the hands of millions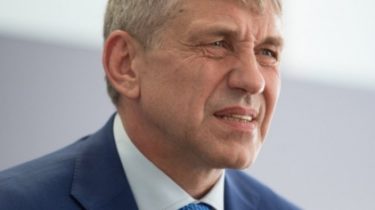 Money out of nowhere. The Minister Kasalica at the salary in 7 thousand UAH in the hands of millions
© UNIAN
The Minister of energy and coal industry is one of the richest members of the Cabinet.
The salary of the Minister of energy and coal industry Igor Nasalik in 2015 was 81 122 UAH, which is equivalent to 6 UAH 760 per month.
The total official income last year was 410 614 UAH, taking into account the funds paid by credit card, as indicated in his e-Declaration.
Read also: Cabinet 150 million: how many are to go and what Ministers Groisman
Despite such a salary, Nasalise able to keep cash 4.7 million UAH 890 thousand and $ 240 thousand euros, which have a total volume of 33 987 663 UAH at the exchange rate on Tuesday, November 1.
This is one of the highest indicators among the Ukrainian Ministers. Euro more cash holding is that the Prime Minister Volodymyr Groysman — 460 thousand.
And this despite the fact that Natalika no such income sources as interest, proceeds from disposal of property, gifts and the like.
See also: GPU check MPs with cash "under the mattress" and too generous donors
At the same time in 2015, he paid 574 776 UAH for a hotel in the Maldives and donated just one million in the TOP Block of Petro Poroshenko "Solidarnist" in Kiev.
Among all the Ministers of the Cabinet Nasalik still has the largest total land area. So, it has four sites in 129 080 square metres. The cost of any of them not specified in the Declaration, however, three are located in Kyiv region (from 370 to 1200 sq m).
See also: "Wanted to attract attention." Melnychuk explained why declare trillion hryvnia
Also Nasalik owns the land in Kalush, Ivano-Frankivsk region 126 thousand square meters, and it is given to him for free.
Interestingly, the Minister's wife, Guzel Nasalik, earned 745 256 UAH, engaging in entrepreneurial activities. In addition, Nasaliki declared even 720 500 UAH wife, the source of which she refused to disclose.
It is in the Declaration Natalika recorded in cash 40 thousand pounds.
Recall that the NAPC has promised to check the origins of large cash amounts in declarations of officials.
NACP will check the origin of the large amounts of cash on hand in the declarations of officials
TSN. 16:45
Yesterday, 17:48
Add to favourites
Declarations deputies and officials interested in National Agency on corruption prevention. There now is a briefing. A correspondent reports TSN live, what will they do at the Agency with a completed declarations and for which reports will be taken in the first place.
Comments
comments