AIDS, scabies and alcoholism. Tymchuk told that sick fighters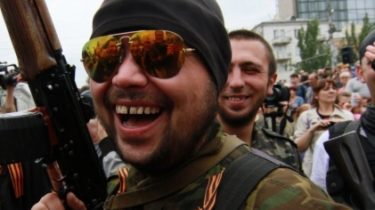 AIDS, scabies and alcoholism. Tymchuk told that sick fighters
© UNIAN
In the units of the "DNR" systematically violated health standards.
People's Deputy of Ukraine and the coordinator of group "Information resistance" Dmitry Tymchuk on his page on Facebook reported about numerous diseases of fighters terrorist "DNR" and "LNR". According to him, among the militants there are HIV-infected.
In particular, in the military hospital deployed on the basis of Yasinovatskiy Central district hospital, 15 Oct 2016 died of AIDS, the suicide of one of divisions "1 AK DNR".
In addition, due to violations of sanitary norms in the units of the "DNR" recorded a case of mass disease scabies.
See also: In the Russian city officially declared HIV
"In connection with systematic violations of sanitary standards in the organization of the service, formations and units "1 AK DNR" is constantly recorded outbreaks of various diseases. At the end of October in the units "1st infantry battalion" "separate mechanized regiment" (Makiyivka) "1 AK DNR" recorded case of mass disease scabies troops", – Tymchuk wrote.
Also continue to record cases of abuse by militants of alcoholic beverages. In particular, 22 Oct drunk terrorist from the "6-th separate mechanized regiment" fired a machine gun at his friend.
See also: occupied In the morgue Donetsk brought the bodies of 20 militants, the defence Ministry
"Soldier" from the "6-th separate mechanized regiment" Prokopenko N. In. in a state of extreme intoxication from the machine fired a shot for a fellow service Lavrik, D. M. Prokopenko was arrested on this fact office investigation is made. 23 October, two soldiers of the same regiment made an accident in a condition of strong alcoholic intoxication and inflicted injuries of varying severity two residents of Teplogorsk, which caused protests of local people and threats to take revenge on the invaders", – stated in the message of Tymchuk.
Earlier, in the Luhansk region fighters buzzed escaped from the guard post military depots and killed a resident of the village of Komsomol. Komandovaniya brigade issued a release of these war criminals prior date.
Comments
comments