In the area of ATO there is not one mobilized military – Poroshenko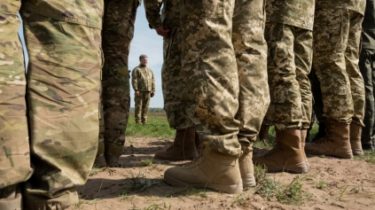 In the area of ATO there is not one mobilized military – Poroshenko
© Reuters
The President announced the completion of the 6-th wave of mobilization.
No mobilized military on the front of the Donbass left.
This was stated by President of Ukraine Petro Poroshenko.
"I, as President and commander in chief. you can inform the Ukrainian people that henceforth no one mobilized on the front, in the area of ATO no. And the Armed Forces of Ukraine should be fully secured by the volunteers, soldiers-contract employees, well trained, motivated, trained and ensured," he said.
The President also stressed that at the front are only the soldiers-contractors and volunteers, which is qualitatively created, trained, conducted appropriate training, in particular, with the participation of foreign partners.
"For the past two years, the mobilization has fulfilled a very important role in the defence of our country, and to repulse the aggressor who attacked our country in the most difficult days for the Ukrainian history. During this time the Ukrainian army has come a long distance. Today we have a qualitatively new Armed Forces of Ukraine", – said Poroshenko.
See also: Joy and relief, the emotion of the military on the front of the letter of demobilization
According to the head of the state, as at the beginning of the year more than 60 thousand of contract servicemen enrolled in APU.
"It is very important that due to the demobilized, particularly those who best showed themselves in the ranks of the Armed Forces, formed more than 100-strong reserve of the first stage", – said Poroshenko, noting that the brigade commander had the opportunity to complete their part and encourage them to serve in the army.
At the same time, the Minister of defence of Ukraine Stepan Poltorak said that 60 thousand contract – 12 thousand soldiers, who first have served in the army as part of the mobilization and then left to serve under the contract. "Almost 20% are people who have combat experience," he said.
In turn, the chief of the General staff of Ukraine Viktor Muzhenko reported that the total number of contract employees that were recruited in the period 2014-2016 is 90 thousand.
We will remind that earlier the President of Ukraine Petro Poroshenko said that he as the commander in chief is not planning to announce the seventh wave of mobilization.
Comments
comments