Fighter of Vinnytsia region killed two weeks after their wedding in the front of the Church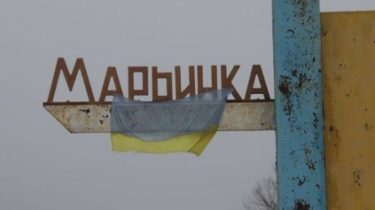 Fighter of Vinnytsia region killed two weeks after their wedding in the front of the Church
© Facebook/the press-center of staff ATO
Both of those killed over the past day – with public Corporation.
Two soldiers were killed and two others were injured after a powerful night attack in the area of Marinka, says the story TSN.16:45.
TSN went to one of positions where the evening did not cease the fire of the enemy. Only 120 CALs for Ukrainian warriors released about 25 min.
Two soldiers that did not return from the battlefield – young men, both of Vinnytsia region. One of them just about two weeks ago married wife in one of the front of the Church, the wife also serves in the army.
Two more soldiers are now hospitalized. One soldier with serious injuries. It is still impossible to even send a helicopter to the Dnieper.
The hardest on the Mariupol direction today. Literally in the afternoon the enemy was firing mortars. During the night fired about 200 rounds of different caliber.
Frontline reports: the Marinka gunmen opened fire on a school
TSN. 16:45
Today, 17:12
Add to favourites
Two of the dead and wounded at the front. Fired school in Marinka and neighborhoods in Krasnogorovka. In General, hundreds of shells with heavy weapons, the militants released during this night by the Ukrainian army. She was beaten across the line of demarcation.
Ignores the enemy and civilians. In Marinka in the Donetsk region terrorists fired at the school, was beaten with machine guns. Fortunately, no one was hurt – fired at night. The institution for the sake of security had undergone an educational process to another part of the room. However, the bullets fly everywhere.
Went today and Krasnogorovka. The fighters there even a tank shot as much in the center of the city. Miraculously victims among civilians no information on casualties among the military specified.
The headquarters of the ATO reported that for the past day the enemy also suffered losses. In particular, 3 invader was killed and 3 were injured in Avdiivka the industrial area and on the Mariupol direction.
By TSN correspondent Anna Bock
Comments
comments