On the border of Ukraine and Russia noticed a funeral van with the words "200" – OSCE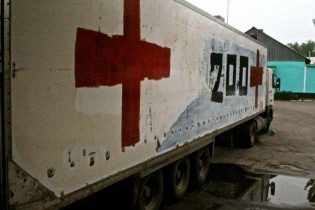 On the border of Ukraine and Russia noticed a funeral van with the words "200" – OSCE
© sprotyv.info
The car had Russian license plates and followed it from Ukraine.
The observation mission of the OSCE recorded on the Ukrainian-Russian border point "Gukovo" funeral van with the words "200".
This observer reported in a weekly report of the mission from October 26 to November 1, 2016.
"The van from both sides was an inscription in Russian "Funeral" and on the windshield on the A4 paper was a sign "200", – said the OSCE.
According to representatives of the mission van with the Russian numbers crossed the border from Ukraine to Russia last Thursday, October 27, in 15 hours.
At the same time, observers noted that it was not possible to determine whether the van carrying the coffin.
We will remind, earlier on Donbass for the large loss of extra had replaced the paratroopers of the Russian Federation. According to people's Deputy Dmitry Timchuk, the strength of the armed forces suffered considerable losses after "run-in".
Comments
comments