"I don't do drugs". Dobkin explained why I was hiding behind a pillar with a bottle of water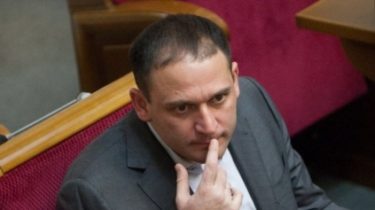 "I don't do drugs". Dobkin explained why I was hiding behind a pillar with a bottle of water
© UNIAN
MP explains his strange behavior, neurological problems.
MP from "Opposition bloc" Dmitry Dobkin commented on the video of the Verkhovna Rada, which has become very popular in the Network.
As Dobkin told TSN, he has some health problems, but did not want to advertise them, although the theme from the "odd behavior" have repeatedly raised in the media. The MP is even ready to pass the necessary tests if it will join those colleagues in Parliament, who accused him of drug use.
"I am in principle not against it (to pass inspection), but only with people who lift this subject. I have this topic not previously commented, we are all real people, in God's hands. Actually, I have certain health problems – neuralgia. I go through a certain course of treatment, but I don't want this topic speculated by my colleagues, journalists. I can responsibly say – I don't do drugs, drink alcohol only on major holidays, doing sports," he said by phone.
The MP is ready not only expertise, but also for sports competitions with other parliamentarians, to prove that he has no problem watching over their health. In addition Dobkin complained that he was constantly being watched in the Parliament journalists, so he went for a column of water to members of the media to him, not finding fault.
"I drink a pint of water two or three times a day, just drink in one gulp, because the doctors suggest to drink water. I moved behind a pillar and just drank water," – said the MP.
Dobkin also explained that the tour is over 135 thousand euros are not bought, but was just looking at the proposal, who sent him. In the correspondence was a much cheaper position.
We will remind, in a Network uploaded video from the session of the Verkhovna Rada, where Dmitry Dobkin ordered a luxury tour cost of 135 thousand euros, and then went behind a pillar and acted after this walk excitedly. His brother Mikhail Dobkin says that there is nothing strange in the behavior of the MP there, and journalists all come up with. Ilya Kiva, in turn, provided the probability of the use of people's deputies of synthetic drugs and insists on the inspection officials.
Dmitry Dobkin during a meeting of the Verkhovna Rada ordered the tour of 135 thousand euros
TSN. 16:45
Today, 17:40
Add to favourites
In the Internet appeared the video, as working in the Verkhovna Rada Dmytro Dobkin. Brother of former head of Kharkiv region in the corresponds with the travel agent. The operator which reported that the MP had booked the tour for 135 thousand Euro. Country the people's choice from "Poblocka" closes hand. Then he takes a plastic bottle, walks behind a pillar and drinks. When he returns to his workplace, his behavior changes.
Comments
comments