The people's Deputy from BPP banned to leave Ukraine from-for million debts to banks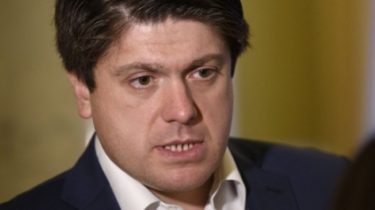 The people's Deputy from BPP banned to leave Ukraine from-for million debts to banks
© UNIAN
The Deputy owns four self-propelled motor vessels.
The people's Deputy of the PPB vinnika limited right of departure for limits of Ukraine in connection with the debt to "alpha Bank" and "PrivatBank" in the amount of 371 million UAH. In their own Declaration , the Deputy did not specify this information.
About it writes "Ukrainian truth" with reference to the resolution of Appellate court of Kiev.
He can't leave the country until they pay their debts to the banks. But the passport in the MP is not withdrawn.
Representatives of "Alfa-Bank" announced that winnick has a 1/4 apartments, and four small vessels. The Bank argued that winnick as the debtor hides the presence of the property.
In the registry of vessels of the small fleet, there is evidence that in 2016 winnick have owned four self-propelled motor vessel.
On its return for the 2015 people's Deputy says that he has no corporate rights and is not a beneficiary of one of the companies. It declared that only car BMW 750i 2008 year and rent rooms in the hotel "national", write "Our money".
Ivan Vinnik in early 2013 was listed as a head of the "Plant of Construction materials No. 1". The owner of the Kherson company is listed Cypriot company "Nataville Limited". Since July of this year the plant is in bankruptcy proceedings.
See also: Homeless winnick and credit Gavrilyuk housing. Top 5 poor politicians and officials
Also Ivan Vinnik has a debt 35,57 million. before "PrivatBank". About this debt MP in their electronic declarations are not reported. This debt relates to Bank credit of "global koncentrat", the surety on which has also been Vinnik. In 2013, the court found the requirements "of PrivatBank" by 22.51 million.
Winnick was the Director of the "global koncentrat" in 2002-2009 In 2009, the firm rewrote the London company "Balestra limited". From June 2015, "global koncentrat" appears in the register of legal entities as suspended.
Recall, October 30, the first stage of submission of e-declarations of Ukrainian officials. Zamestitel NAPC Chairman Ruslan Radetsky announced that more will go to check e-filed returns. Among the first "lucky" were MPs, judges and prosecutors.
Comments
comments