The Ukrainian military can purchase 125 thousand new suhpaykov to the end of the year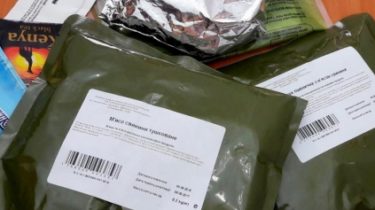 The Ukrainian military can purchase 125 thousand new suhpaykov to the end of the year
© Defense Ministry Of Ukraine
According to Biryukov, this year suhpai can get into the army.
In Ukraine began a tender for the purchase of new suhpaykov for the Ukrainian military.
Wrote about this on his page in Facebook Advisor to the President of Ukraine and the assistant Secretary of defense Yury Biryukov.
"An hour ago the bidding Committee voted for the start of the tendering procedure for the purchase of 125,000 sets this year. This is not a victory. But now the chances that the army will get these rations this year – increased dramatically", he stressed.
Note, the tender for the provision of the Ukrainian army field suhpayami will be conducted through the system of public e-procurement ProZorro roughly after 7 November.
Separately Biryukov said that could not name the new field ration APU dry rations, "because there is not dry food."
We will remind, earlier the government has approved the purchase of dry rations for the new sample for the Ukrainian military in the diet include coffee and chocolate, and to heat the food it will be possible without fire. To change nutritional standards for soldiers planned volunteers together with the Ministry of defense. The previous rules C is a set of calories, which does not contain any vitamins and minerals.
Comments
comments