Rada may consider the law on foreign agents – Transparency International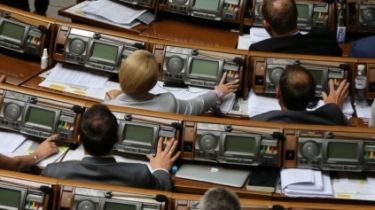 Rada may consider the law on foreign agents – Transparency International
© UNIAN
Those who fall under the law, want to be required to submit electronic declarations.
On Tuesday, November 3, the Verkhovna Rada of Ukraine may consider the draft law No. 5318 about the foreign agents. The relevant law is in the agenda of the Ukrainian Parliament.
This was announced by Executive Director of " Transparency International Ukraine Yaroslav Yurchyshyn, reports pack.
The bill, which was proposed by MP from the party "Freedom" Yuri Derevyanko, gives the National Agency for prevention of corruption has the right to determine foreign agents.
According to the draft document, these agents will be obliged to file electronic declarations.
Yaroslav Yurchyshyn believes that the purpose of the law is to "discourage possible or at least to complicate them to the international partners of Ukraine to invest in the fight against corruption".
"Because without such investment there would be no NABOO, no National Agency for prevention of corruption – NAPC or electronic Declaration", – he said.
We will remind, the law on foreign agents was adopted in Russia in 2012. According to him, NGOs involved in political activity and receiving funding from abroad, must be recorded in a special register as foreign agents and mark corresponding mark all the necessary materials. In accordance with the legislation of foreign agents in any form may not participate in the elections. In June 2016, a law was passed that clarifies the definition of political activities.
Comments
comments