Ukraine buys Russian products for military equipment – media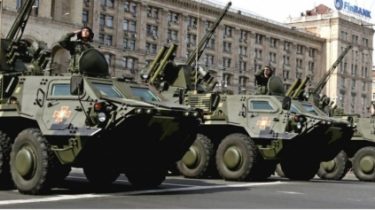 Ukraine buys Russian products for military equipment – media
© UNIAN
Transactions occur through a British firm, which opened in Latvia.
State company "Ukrinmash", part of the concern "Ukroboronprom", buys products in Russia for defense.
This is stated in the plot of "the Investigation.Info".
According to journalists, "Ukrinmash" bought track for military vehicles and engines for Russian-made BTR 70.
The purchase took place through the British firm "Rion Assets Company LTD", which Director was a citizen of Seychelles Selma Francis. Bank account of this company opened in Latvia, and in negotiations with "Ukrinmash" company was represented by inhabitants of Kiev.
According to the "Investigation.Info", the Ukrainian company paid 121 $ 200 for 20 pieces of track (6060 dollars apiece). Russian engines for the Ukrainian APCS was worth 160 thousand dollars for 20 units (8 thousand dollars apiece).
at the same Time, journalists note that the average price for these engines is about 2-3 thousand dollars, that is four times cheaper than the price you paid "Ukrinmash".
Comments
comments