From the website of the Cabinet of Ministers took the message of Biden's arrival in Ukraine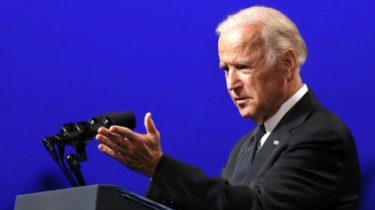 From the website of the Cabinet of Ministers took the message of Biden's arrival in Ukraine
© Reuters
The rest of the text of the press release remained unchanged.
Government portal disappeared information about the visit of the Vice President of the United States Joseph Biden to Ukraine.
Earlier, the press service of the Cabinet of Ministers reported that during a telephone conversation with Prime Minister of Ukraine Volodymyr Groisman Biden announced his intention soon to make a visit to Ukraine.
Later mention of Biden's arrival disappeared, the rest of the text of the press release remained unchanged.
The report said that Biden and Groysman discussed the process of reforms in Ukraine and coordinate further cooperation on attracting the necessary aid and assistance from the United States.
The sides discussed the beginning of the system of electronic declarations, public administration reform, privatizaciju state enterprises, in particular the second phase of the privatization of Odessa portside plant.
See also: Biden called e-declaring is an important step in the fight against corruption in Ukraine
Groisman also announced the government's decision to double the minimum wage in Ukraine.
"Biden noted the positive results of government activities for the first six months of his work, assured of the continued support from the US Administration," – said in the message.
We will remind that earlier on the official website of the President of Ukraine there was a message about the telephone conversation with President Atambayev. Later in the office of the President of Kyrgyzstan has refuted a message that appeared on the website of President Poroshenko.
The foreign Ministry of Ukraine said that the provocation regarding a telephone conversation between President of Ukraine Petro Poroshenko and President of Kyrgyzstan Almazbek Atambayev was aimed at preventing the promotion of the Ukrainian side in the important UN initiatives on human rights in Crimea.
Comments
comments