The Bible with rhinestones and expensive paintings. MPs spend their millions are not coming from work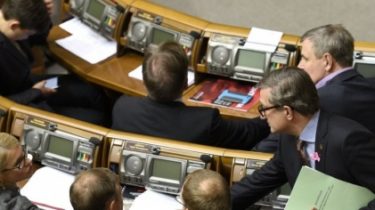 The Bible with rhinestones and expensive paintings. MPs spend their millions are not coming from work
© UNIAN
In the building of Kyiv, where they live and work, the MPs has its shops of luxury.
Elected officials can spend millions without leaving their work, says the plot of TSN.19:30.
Hotel Kiev has never stepped foot in an ordinary person, after all, live and work here MPs.
Here you can buy everything from socks to expensive antique valuables. For example, all jackets in the store are for 9 thousand hryvnias.
Nearby antique shop. There's even a picture of the last century, statues by Italian masters and plates. Some of them cost a hundred dollars.
The saleswoman said it was a Commission store, old things bring good people, and she sells them to residents of the hotel. For example, one of the exhibits of 1864 is worth 165 thousand.
The building committees have their own stores of luxury. On the fourth floor next to the Committee of the fight against corruption figurines sell for 15 thousand hryvnia. In the second Committee.
Shooting is prohibited, so the saleswoman saw the camera run.
The book "Power over people" and "the Prince" Machiavelli in leather covers are sold for 10 thousand hryvnia. The Bible with rhinestones and is 7 thousand hryvnia, and the Bible silver Vladimir – almost 8 thousand UAH.
Under the dome has been thriving for other business. The artist Sergey Poyarkov in Parliament finds buyers for his paintings.
"Shufrych bought, Poroshenko once bought, Klitschko by the way recently bought. Just now, with their electronic declarations do not even want to shoot the collectors. Picture from 5 to 10 thousand dollars, I believe this is the normal price. For them it is a little money," – says the artist.
Find out more in the story of TSN reporter Dmitry Svetnenko.
Dear socks, and Antiques: Ukrainian MPs spend millions, not coming from work
TSN. 19:30
Yesterday, 21:15
Add to favourites
In the hotel "Kiev" never stepped foot in the common man. After all, live and work here MPs, of course, is forbidden. Here you can buy everything: precious tomes, Antiques, and modern art and even airplanes. TSN found out who is the greatest connoisseur of art in the Parliament.
Comments
comments