Groisman assured that "egalitarianism" after raising the minimum wage will not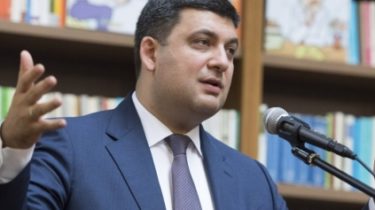 Groisman assured that "egalitarianism" after raising the minimum wage will not
© UNIAN
The Prime Minister noted that the funds for such an increase in the state.
Raising the minimum wage by half from 1 January will not lead to the so-called equalization of salaries of Ukrainians. This was stated by Prime Minister of Ukraine Volodymyr Groysman during the extraordinary session of the Government on the draft law of Ukraine "On State budget of Ukraine for 2017", prepared for the second reading, in accordance with the budget conclusions on Thursday.
"No "egalitarianism" will not" – said the Head of Government.
Volodymyr Groysman noted that such information is disseminated anti-state political forces that are trying to convince the public that raising the minimum wage won't happen and impossible.
The Prime Minister stressed that raising the minimum wage is real.
"From 1 January in Ukraine, every working citizen will get at least 3200 UAH. This is the reality," he said.
Raising the minimum wage to 3200 UAH – is a real step in the fight against poverty, said the Head of Government.
According to him, the funds for such an increase in the real economy and do not need the additional emission of money.
The government will also release from the indicator of minimum wage is any wage growth for civil servants, judges or prosecutors, said the Prime Minister.
"We will ensure absolute social justice," – said Vladimir Groisman.
The Finance Minister said, where will the money to increase minimum wage
TSN. Week
30 Oct, 20:06
Add to favourites
Alexander danyluk was interviewed in Studio by TSN.Week. The Finance Minister assured that Finance for the payment of the minimum wage will not take off the taxes of the citizens, and spoke about the impact of the rising dollar and the number of unemployed. Also Alexander danyluk said why keep thousands of dollars in cash.
Comments
comments