Near Kiev found a huge underground bunker with an armored vehicle, full of weapons and ammunition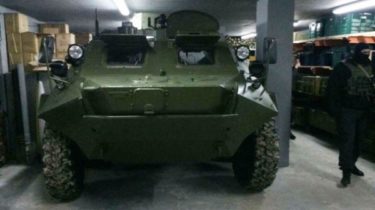 Near Kiev found a huge underground bunker with an armored vehicle, full of weapons and ammunition
Kiev
Today, 15:21
1 of 7

© Kyiv Prosecutor's office

1 of 7

© Kyiv Prosecutor's office

1 of 7

© Kyiv Prosecutor's office

1 of 7

© Kyiv Prosecutor's office

1 of 7

© Kyiv Prosecutor's office

1 of 7

© Kyiv Prosecutor's office

1 of 7

© Kyiv Prosecutor's office
© Kyiv Prosecutor's office

© Kyiv Prosecutor's office

© Kyiv Prosecutor's office

© Kyiv Prosecutor's office

© Kyiv Prosecutor's office

© Kyiv Prosecutor's office

© Kyiv Prosecutor's office
The cache found on the territory of the holiday village in Boryspil district.
In the territory of one of the villas in Boryspil district near Kyiv police found an underground bunker, and there were armored vehicles, a huge Arsenal of weapons and ammunition.
Reports a press about it-service of Prosecutor's office of Kyiv.
"During the search, which was conducted with participation of specialists of explosive service and dog training center, police found 60 objects that look like missiles to the launchers "Grad", 2 item, like a weapon of the IFV (infantry fighting vehicle), 4 subject similar to ammunition MANPADS (portable anti-aircraft missile system), about 200 weapons like anti-tank mines, LNG (easel anti-tank grenade launcher), RPG (antitank grenade launcher) and armor-piercing projectiles. Also in the room discovered an armored personnel carrier", – stated in the message.
Now militiamen carry out searches. Weapons and ammunition will be sent for examination. Already opened criminal proceedings under article 263 of the Criminal code of Ukraine (illegal weapon handling, fighting supplies or explosives). Also set, where did this come from a huge Arsenal of weapons.
Comments
comments