The state budget for 2017: the government increased defense spending by 1 billion UAH.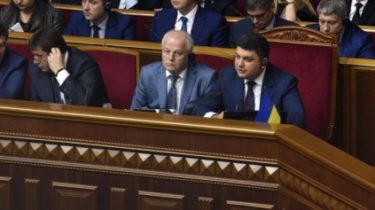 The state budget for 2017: the government increased defense spending by 1 billion UAH.
© UNIAN
Also, the draft document envisages increase of expenditures on health and education.
After revision of the draft state Budget of Ukraine for 2017 the size of the state guarantees for the implementation of projects in the sphere of defense and security increased by 1 billion UAH – to UAH 7 bln.
This was announced by Finance Minister Alexander danyluk, representing the draft budget at a special meeting of the Cabinet of Ministers, reports "Interfax-Ukraine".
According to him, in addition to increasing defense spending, the government has provided for the allocation of an additional 0.5 billion UAH for compensation for the cost of drugs for the treatment of hypertension, diabetes and asthma. Now this would amount to 6.4 billion UAH.
See also: Reva told how many billions need to attract in the budget to increase the minimal salary
Furthermore, an additional UAH 150 million pledged for the purchase of angiography equipment for the centers of cardiovascular surgery in terms of co-financing with local authorities.
Also, the government has provided for the costs of inclusive education and vet, as well as on combatants and their children.
Alexander Danilyuk noted that the finalization of the draft Budget was saved four basic principles on which it is based: credibility, transparency, efficiency and prioritization.
See also: "I don't bargain", – Groysman on the transfer with the NBU 38 billion hryvnia in the state budget
Recall, 20 October during a meeting of the Verkhovna Rada the people's deputies in the first reading adopted the draft State budget for 2017. The draft resolution on the conclusions and proposals to the Law of Ukraine on the state Budget voted 245 deputies.
The Cabinet of Ministers submitted the document to Parliament a month ago, on September 15. Such a term is required by domestic legislation. 20 October came the final term of consideration of the draft budget in the first reading. Within a month, MPs have already submitted 1165 amendments to the bill.
On 3 November the Ukrainian government approved the finalized draft State budget for 2017.
Next year will increase the minimum wage and a living wage
Snidanok 1+1
27 Oct, 09:01
Add to favourites
Minimum wage and living wage in Ukraine will increase up to 3200 UAH – said the Prime Minister Volodymyr Groysman. Amendments to the draft Budget for 2017 before its second reading. Now in the Cabinet think how much money the announced increase of the minimal wage. The minimum wage in Ukraine today is 1450 UAH, and from the first of December is expected to increase to 1600 UAH.
Comments
comments