A fractured skull and broken arm. In Kiev, brutally beat the Director of river port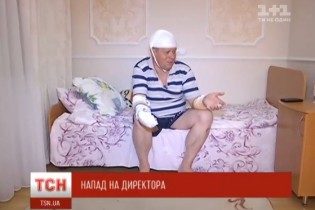 A fractured skull and broken arm. In Kiev, brutally beat the Director of river port
© TSN
Officials link the attack with the professional activity
Barely survived after beating the Director of the Kiev river port Sergey Boyko. It Nepali the house in which he lives. This is stated in the story TSN.19.30.
Now Sergey Boyko in the hospital with a concussion, a cracked skull, broken arm and shoulder.
See also: Poland brutally beat the Ukrainian, taking him by the Russian media
He said that the attackers were three, not a requirement they do not set, just silently beat bats, trying to hit the head. It wasn't a robbery, because he has not taken any of the car keys, no purse.
The attack is connected with professional activities as Director of the river port. For eighteen months he was half increased extraction of river sand. That's what I guess might not appeal to those who do it illegally.
The police started criminal proceedings on the fact of deliberate infliction of grievous bodily harm.
The Director of the Kiev river port Sergey Boyko barely survived the beating
TSN. 19:30
Yesterday, 21:01
Add to favourites
He was attacked when he approached his house. He's in the hospital. He has a fractured skull, concussion, broken arm and shoulder. The investigative Department of Darnitsky police Department initiated criminal proceedings. For their actions the attacker faces up to eight years in prison.
We will remind, earlier in Kiev, the supermarket security guards brutally beat a buyer for the stolen goods.
Comments
comments