For 2 years the family of the investigator in the case said enriched into 3 apartments and a house near Kiev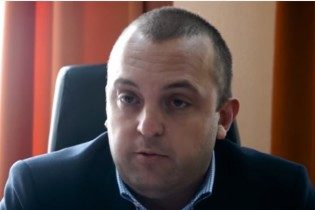 For 2 years the family of the investigator in the case said enriched into 3 apartments and a house near Kiev
© YouTube
The investigator of the GPU Eugene kotets declared that not all state.
The family of the head of the special investigations of the General Prosecutor and investigator of the "Kyoto money" Yulia Tymoshenko — Eugene Kotze — in General, over the past two years has been enriched by three apartments and one house.
However, not all of these acquisitions indicated in his e-Declaration. This is stated in the investigation "Schemes".
The fact that most of the property in its e-Declaration kotets recorded in the name of wife, previously divorced. In addition, his Declaration doesn't include the elite Dostoyanie his mother and mother-in-law.
See also: In the Parliament demand that anti-corruption bodies urgently to verify the Declaration of people's deputies
So, according to e Declaration of the official, in 2014 his wife, Irina kotets bought an apartment with an area of 182,1 sq. m, and last year, it earned only about 13 thousand hryvnia.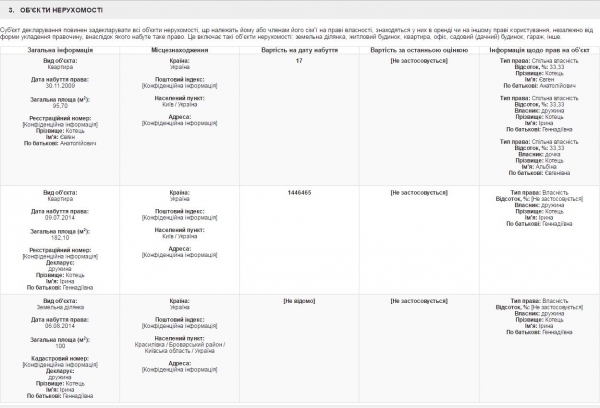 NACP
And in the spring of 2016, she bought land and house is 230 sq m in the forest area of the city Bucha, near Kiev. However, these data were not included in the Declaration Cotta.
As he explained the investigative journalists, before purchasing this property kotets Irina filed for divorce. In the decision the court stated that a couple from April 2015, does not lead a life together. However, now the ex-spouses live in a shared apartment in the capital.
As MPs ran out of questions about the crazy money in the declarations
TSN. 19:30
1 Nov, 21:04
Add to favourites
The content of their declarations for MPs is now a sore subject. Everyone wants to know where they got the money for the estate, luxury cars, valuable weapons and even Holy relics. Direct questions away, don't answer them, and sometimes even resort to insults.
Interestingly, in 2015 the income of the wife of the investigator of GPU was only 30 UAH 869 (2 572 UAH per month including material aid for child birth), and the market value of the house in Bucha is 3 million UAH. Kotets, in turn, said that he does not know where the ex-wife took the money on the house.
In addition, according to "Schemes" in 2015, mother Irina and Eugene Kotze bought an apartment near the housing of the investigator of GPU on Poznyaky. Their condition kotets also made in e-Declaration.
See also: In Ukraine, the first check of e-declarations of MPs, judges and prosecutors – NABOO
By the way, kotets-known investigation of "aunts" at Euromaidan Yuriy "Enakievo" Ivanyushchenko, who is suspected of taking a share of the Odessa market "Seventh kilometer". In addition, kotets at the time opened a criminal case against Yulia Tymoshenko over the misuse of the Kyoto funds.
Recall that in NACP told about the date of the first criminal proceedings against the illegal enrichment of Ukrainian officials.
Comments
comments