SAP remanded the case "black accounting" of Party of regions in NABOO for revision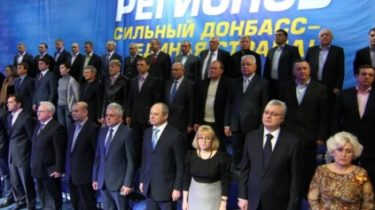 SAP remanded the case "black accounting" of Party of regions in NABOO for revision
© UNIAN
Prosecutors made several instructions regarding the investigation.
Specialized anti-corruption Prosecutor's office returned for revision to the NAB suspected in the case of "black accounting" of the Party of regions.
The journalists said the Director of NABU Artem Sytnik, informs "Interfax-Ukraine".
"Yesterday we had a meeting with the anti-corruption prosecutors, and we have prepared a number of suspicions and referred for approval. Yesterday they were returned to prosecutors with guidance on the conduct of specific investigative actions. We intend these instructions to be performed very rapidly and send these suspicions to the Prosecutor's office for final approval," said Sitnik.
He noted that the case of "black accounting" of the Party of regions intersects with the case, which is investigating the head of the Department of special investigations of the Prosecutor General Sergei Gorbatyuk regarding the usurpation of power.
See also: Holodnitsky informed about the delay of examination of the handwriting in the "black accounting" of the Party of regions
We will remind that the people's Deputy Serhiy Leshchenko published part of "black accounting" ETC. Upon review of these documents, the Deputy reported that during the first half of 2012 the Party of regions spent about $ 66 million In particular, in documents found confirmation of financing of the Maidan.
And most sensational discovery was the presence in the book Ambani regionals Paul Manafort, the former campaign Manager of the candidate in presidents of the United States Donald trump. After the scandal trump dismissed the consultant from the leadership of his staff. Later he resigned.
On 29 September, the interior Ministry reported several discovered of sheets of originals "black accounting" of the Party of Regions. Avakov promised to send them to NABOO.
October 6 in the NAB questioned Avakov. The reason for the questioning began page accounting PR.
Comments
comments