In "Azov" said the statement of the militants on the detention of members of the regiment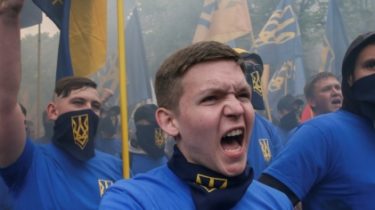 In "Azov" said the statement of the militants on the detention of members of the regiment
© Reuters
On the detention of terrorists reported on the website of the "Ministry of state security of LPR".
Regiment "Azov" declares the innocence of the detained militants "LC" to your organization.
This is stated in the statement of the regiment on the official website.
"On the morning of 5 November, the Russian media spread information about the detention of "security Ministry "LC" two representatives of the fan movement ultras "Dawn" in the occupied territories of the Ukrainian Lugansk region. In the characterization of the detained militants are credited with them and stay in the regiment "Azov", and membership in a Civil Case "Azov". No one called separatists detainees had not been formally involved to any regiment "Azov", or the Civil Case "Azov", – emphasized in the organization.
See also: "Azov" founded a new political party
Also in "Azov" stated that, according to the dates of birth of detainees that are released by the militants, the terrorists "… "heroically" arrested adolescents".
Recall that the militants "LNR" declared that detained the representatives of the "radical neo-Nazi group that is the secret office of the battalion "Azov" – a group of fans of FC Zarya "Ultras Black and White". This was reported on the website of the so-called "Ministry of state security of LPR". The terrorists claim that the detainees were distributing neo-Nazi literature and leaflets" calling for the overthrow of the constitutional order "of the Republic."
Comments
comments