Lutsenko explained the conditions under which Novinsky may be declared internationally wanted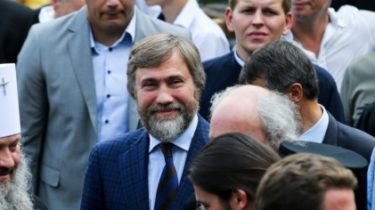 Lutsenko explained the conditions under which Novinsky may be declared internationally wanted
© UNIAN
According to the Prosecutor General, the case of the people's Deputy from "opposition bloc won't take a long time.
The announcement of the people's Deputy from "Opposition bloc" Vadim Novinsky on the international wanted list of Interpol may be the case if he does not return to Ukraine after the withdrawal of parliamentary immunity
This was stated by Prosecutor General Yury Lutsenko, according to "112 Ukraine".
"This isn't a thing that will last for a long time… If Novinsky will hide, we will act in accordance with applicable law, to contact the Interpol. In case of failure to wait 6 months and from another condemn the current in Ukraine legislation," – said Lutsenko.
The attorney General added that Novinsky will provide protection in the courts, and the GPU only requires to remove his parliamentary immunity in order to perform his phone calls to complete the investigations and transfer the case to the court. Lutsenko stressed that all should be resolved within two weeks.
See also: After the announcement of the withdrawal of immunity MP Novinsky lightning left Ukraine
"The law provides for representation in the Verkhovna Rada and then the procedure is more than 20 days when the nominator should give an explanation, to arrive at the Committee, and the like. So, unfortunately, the current legislation makes possible the departure of the MP in any of these 20 days…I personally believe that Mr. Novinsky will be in Ukraine", – said the Prosecutor General.
He also noted that Novinsky took part in all investigative actions.
We will remind that Novinsky is suspected of unlawful imprisonment of Archbishop Pereyaslav-Khmelnitsky and Vishnevsky Alexander drabinko, who at the time was personal assistant to the late Primate of the Ukrainian Orthodox Church (Moscow Patriarchate) Metropolitan of Kiev and all Ukraine Vladimir. He Novinsky stated that there is no reason for the lifting of his immunity. The MP also claimed that escape from the Ukraine will not. However, he left the country.
Comments
comments