In Kiev, during a scuffle in the bus passenger was stabbed by his opponent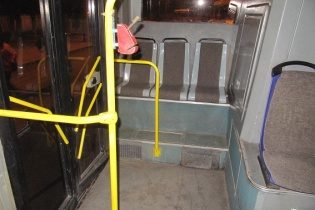 In Kiev, during a scuffle in the bus passenger was stabbed by his opponent
© State of National police of Ukraine in Kiev
The victim died in the hospital.
In Kiev, during an argument in the bus passenger stabbed his opponent.
This reports the press service of the police of Kiev.
The message about the incident received from a resident of the Goloseevsky district of the capital. He said that to stop his friend lying with a stab wound to the chest. The husband refused to wait for an ambulance and decided to take the victim to hospital yourself.
Read also: Russian man killed a man in front of a dozen witnesses, who filmed the murder
Doctors tried to save the patient's life, but he died.
The police found that the bus of route No. 1 between the two passengers scuffle. After stopping the transport from it came a man with a knife wound and after a while lost consciousness.
See also: Chernigov cyclist killed a car passenger because of a conflict on the road
For three days the police found the suspect – he was 59-the summer inhabitant of Kiev who was repeatedly convicted. The man confessed to the crime and now he will be tried for involuntary manslaughter.
Comments
comments